History Day......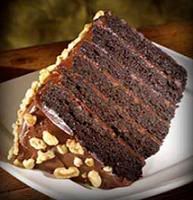 So....on this day in 19mumble-mumble, I was born! That's right, I'm the star of History Day today. And in honor of say...ME, here's a picture of one slice of my absolute favorite cake! Six layers of choclatey heaven otherwise known as the Motherlode...Oh yes. there's one of these in my future...
And in other news.......
1781, American and French forces begin the seige of Yorktown. (Take that, Cornwallis!)
1787, Congress sends the Constitution to state legislatures for their approval. (My guess? That's the last time the Congress actually READ the Constitution!)
1879, Sydney, Australia institutes steam motor tram route
1892, the first football game to be played at night--in Mansfield, PA
1930, Lou Gehrig's streak of errorless games ended at 885 games
1958, US performs nuclear test at Nevada test site
1968, Janis Joplin leaves Big Brother and the Holding company (okay, not really news, but I always liked her)
1968, the Beatles' Hey Jude hits number one and stays there for 9 weeks. (Never liked that song...)
1980, Carl Sagan's 13 part series, The Cosmos premiers on PBS
That's it for me! Let's hear it you guys!